The word "doula" comes from the ancient Greek meaning "a woman who serves" and is now used to refer to a trained and experienced professional who provides continuous physical, emotional and informational support to the mother before, during and just after birth; or who provides emotional and practical support during the postpartum period.
POSTPARTUM DOULA
A postpartum doula is an educator who nurtures a family during the fourth trimester. Doulas provide emotional support and guidance as well as practical help within the home. Doulas are also a great resource and offer evidence-based information on newborn characteristics, infant development, infant feeding, emotional and physical recovery from birth, infant soothing and coping skills for new parents, postpartum mood disorders and make appropriate referrals when necessary. Doulas provide non-medical support.
Research evidence shows mothers who feel supported during the first days and weeks postpartum are less likely to suffer from a postpartum mood disorder beyond the Baby Blues. A postpartum doula can ease the transition that comes with the addition of a baby to a family and improve parental satisfaction.
Postpartum Doula Services
Postpartum support varies by family and their unique needs, my services include but are not limited to:
Emotional and physical support

Hands-on education on infant and mother care

Support

and guidance with breastfeeding & pumping, and/or bottle feeding

Light meal preparation

Overnight support

Accompanying mom on outings like doctor visits, support groups, etc.

Listening and nonjudgmental support



Fee: $30/hour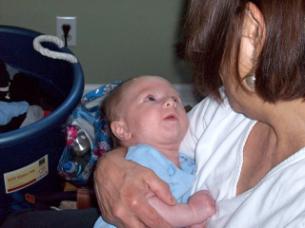 Benefits of a Postpartum Doula
Increased confidence as a new parent

Increase in breastfeeding success and overcoming challenges

Additional opportunities for self care, couple time, afternoon naps, a sit down meal (using both hands) or "mental breaks"

Advanced education about what babies want and how to fulfill their needs

Increased feelings of emotional and physical wellness

Easier adjustment for siblings

Easier overall postpartum transition

Reduced risk of postpartum depression

Reduced risk of child abuse
Gift Certificates are available,

please call or email for details